The Process of the El Gordo Draw
Whether you've purchased a €20 decimo or €200 billete from the plethora of authorised ticket retailers available for the upcoming El Gordo de Navidad draw, you may be wondering what exactly happens every year on 22nd December. So, here is a definite guide to the goings on of this famous annual lottery:
The draw begins promptly at 9am each year, with the Spanish population waking hours earlier with a huge sense of excitement and anticipation that this could be the year they land 'The Fat One'. Groups of people from local towns and nearby villages huddle round television screens to catch the event unfolding, or pour out onto the streets in what is a unique, special carnival atmosphere. They're all dreaming of a win that could potentially change the course of their lives forever.
Cities and provinces will have been preparing for the 9am start for months, and all eyes are locked on Madrid on the day of the draw. The draw is held at Madrid's Teatro Real opera house, previously held at the Palacio Municipal de Congresos de Madrid in 2010 and 2011.
The event is broadcast live on television in Spain, and streamed live online around the world. You'll see two massive spherical golden drums in place up on the stage, one containing wooden balls with all the unique five-digit ticket numbers ranging from 00000 to 99999, and the other containing balls that reveal the prize amount for that number.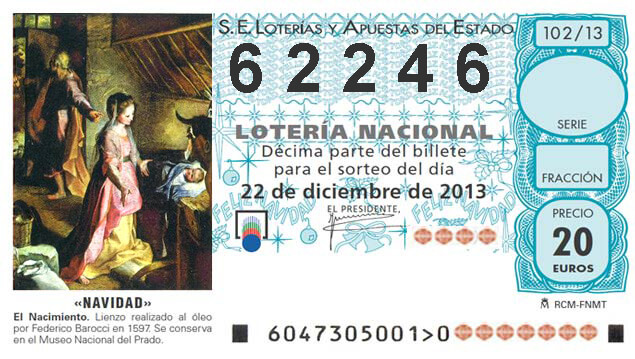 40 children from the local San Ildefonso School, aged between 8 and 14 years, are tasked with the ultimate reasonability of revealing the winning numbers. The school was formally an orphanage, and the children take it in turns in pairs to sing the winning number and the corresponding prize, revealing all to the millions watching.
The whole event can take over three hours to complete, simply because of the sheer number of prizes available, and the revealing of the El Gordo prize at some point during the draw is the showpiece moment everyone has been waiting for.
After the last ball has been shown, you may be one of the lucky winners eager to get your hands on your winnings and check their tickets. If so, you can collect smaller winnings up to €2,500 from local ticket offices across Spain. Bigger winnings of over €2,500 can be collected from certain Spanish banks including BBVA, Banco Popular, Santander, Sabadell and CaizaBanc. Alternatively, you can contact Loterias y Apuestas del Estado – the official Spanish lottery organisation – online or by phone, and all prizes must be collected within three months of the draw taking place.