The Luckiest Spanish Provinces
The winning El Gordo number was 03604 back in 1812 when the draw was held in Candiz, and over the course of the next 205 years there have been an incredible number of winners who have basked in the glory of landing 'The Fat One'.
From the southern tip of Cadiz up to the northern reaches of Asturias and Cantabria, stretching between Cacares on the west across to Castellon and Valencia on the east, almost every province has reaped the rewards of victory in El Gordo.
However, some provinces are 'luckier' than others. Some have numbers of winners surpassing a dozen and beyond, whilst others must feel the luck of the draw simply isn't with them.
With 90 winners, Madrid is comfortably the country's luckiest province when it comes to El Gordo winners. Barcelona are currently in second place with 57 winners, only 33 behind their fellow province in the west. Valencia and Alicante have 25 and 20 winners respectively, and that quartet are actually the only four provinces to have more than 20 winners.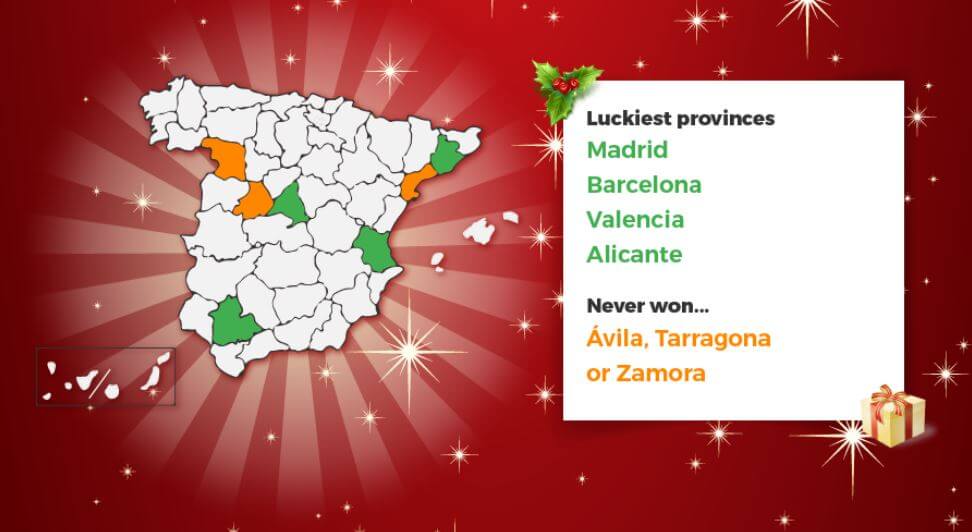 It looks like Madrid is going to become the first ever Spanish province to reach over 100 winners, but elsewhere, ticket-holders in Avila, Tarragona and Zamora will be desperate for their luck to change sooner rather than later. They don't have a single winner between them, and coincidently, Avilia borders with Madrid whilst Tarrogona is located directly beneath Barcelona - so two of the unluckiest provinces are neighbours with the two luckiest.
Eight different provinces share four wins each, the largest number of provinces with the same amount of winners. Players in Albacete, Cáceres, Castellón, Segovia, La Rioja, Leon, Toledo and Valladolid will all be hoping they are the ones to take their province from four to five, surpassing their seven neighbours with a substantial windfall.
There have only been two occasions in El Gordo's 205-year history that the winning El Gordo number has been repeated. 15640 was drawn in both 1956 and 1978, and it wasn't until 2006 – 28 years later – that this incredible sequence happened again. After first being drawn in 1903, 20297 came up again all those years later.
It's impossible to predict which provinces the next winners to come from, or what The Fat One will be, but with a full list of Spanish winning provinces in hand, the number of winners is only going to get bigger.